Product:
Planning Analytics 2.0.97  (file tm1_winx64h_2.0.97.6_ml.tar)
(TM1_version=TM1-AW64-ML-RTM-11.0.97.6-0)
Microsoft Windows 2019 server
Issue:
Error when installing PA on Windows server.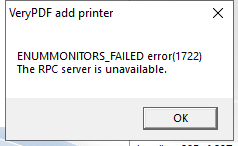 Solution:

Uninstall Planning Analytics.
Go to control panel – administrative tools – services.
Go to Printer Spooler service, right click and select properties and change it to Automatic.
Click to start the Printer Spooler.
Run the installation of Planning Analytics again.
https://www.ibm.com/docs/en/planning-analytics/2.0.0?topic=configuration-installing-planning-analytics-local-single-computer
More information:
https://www.ibm.com/support/pages/tm1-install-generates-error-message-enummonitorsfailed-error-1722
https://www.ibm.com/docs/en/planning-analytics/2.0.0?topic=features-whats-new-in-planning-analytics
https://www.ibm.com/support/pages/ibm-planning-analytics-local-2097-now-available-download-fix-central