Product:
Cognos Controller 10.4.2
Microsoft Windows 2019 server
Issue:
After new installation of Cognos Controller, when for example you check the data format in accusation registry.
It show like 28/02/2020
When it should look like 2020-02-28. This is the expected format for Sweden. Each country have its default format. This is often set inside your local computer, at Region in Control panel.
Solution:
Change the format in region to your country.
Go to Control panel.
Go to Region.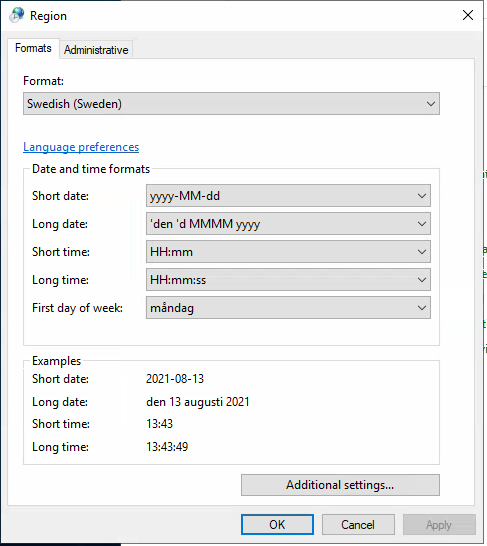 Change in the format drop down to your country, and click apply.
Click OK.
Start Cognos Controller client on your computer and try your report/view again.
On a citrix server, each users, have there own windows profile, and can have different region settings even do they are on the same citrix server.
More information:
https://www.ibm.com/support/pages/time-zone-clock-date-formats-controller-explanation-and-description