Product:
Cognos Controller 10.4.2 FAP service
Microsoft Windows 2016 Server
Issue:
When doing a FAP IP, there is a error message in the process:

Can not update TM1 since data trickle table was purged while the TM1 server was down, try doing a new initial publish to solve problem
Possible Solution:
Login to the FAP client program.
In the Data Marts tab click on STOP after you have selected your active data-mart.

In the Sources tab select your active database, and click on STOP.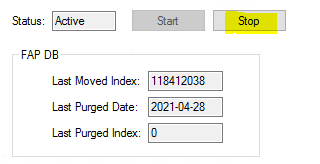 Then in Sources tab click on START, this will set the Last Purged Index to 0.
Go to the Data Marts tab and click on START.
Go to the Logs tab and check mark "Update Automatically".
Wait 30 min, to see that the FAP process works without errors.
More Information:
If above does not work, then you need to do a reset of the tables as this article:
https://www.ibm.com/support/pages/node/235697
https://www.ibm.com/support/pages/can-not-update-tm1-data-trickle-table-was-purged-while-inside-fap-client