Product:
Cognos Analytics 11.0.12
Microsoft Windows 2016 server
Problem:
When i run a cognos report with TM1 data, i get a error;
DPR-ERR-2079 Firewall Security Rejection. Your request was rejected by the security firewall.
Solution:
In this case, close the internet browser, and login to CA11 again. The session have timed out, so you where not logged in.
Other solutions could be;
That the TM1 server or the users domain is not listed in the CAF setup. Please add them.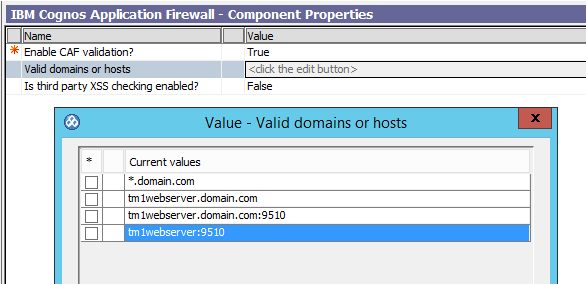 Ensure that CAP is setup the same on all servers.
Steps:Repeat the following on all servers:
1. Open Cognos Configuration.
2. Expand to Security, Cognos Application Firewall: 'Enable CAF validation' and ensure the setting TRUE/FALSE is consistent across all configurations.
More Information:
https://www.ibm.com/communities/analytics/cognos-analytics-blog/cognos-analytics-and-planning-analytics-integration-walkthrough-part-1/