Product:
Planning Analytics 2.0.9.13  ( IBM_PAfE_x64_2.0.82.5.xll )
Microsoft Windows 2019 server
Issue:
How publish a excel sheet with a dynamic report to TM1WEB?


Solution:
You publish the excel sheet to PAW, and it will be availble in both TM1WEB and PAW.
To be able to create Action Button inside excel for Planning Analytics, you need to enable trust for VBA.
Inside Excel – go to file – options – trust center – trust center settings button – macro settings.
Mark "trust access to the VBA project object model".  Click OK.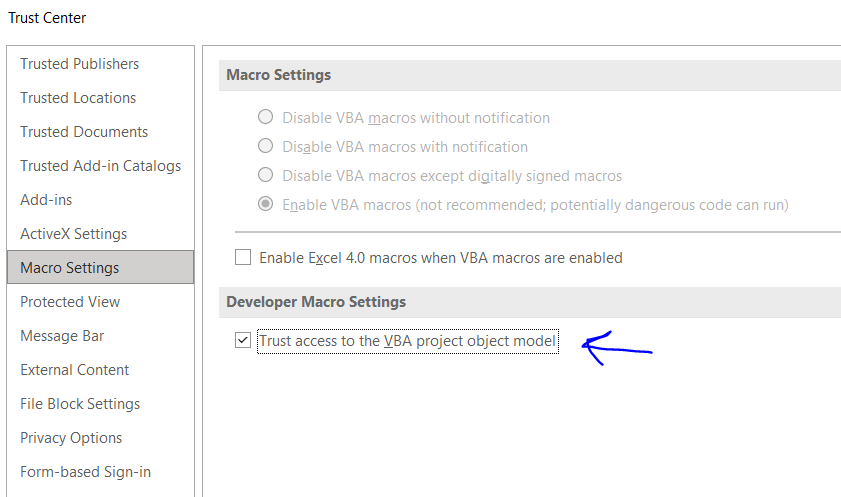 You need also in many cases have "Optimize for compatibility" marked.
Go to Excel Options – General – User Interface options, mark "Optimize for compatibility".
Click OK.
To be able to publish a excel dynamic report, you must save the report first, before you publish it. Recommended to save it with the same name, as you would like to have it shown in TM1WEB.
Click on Publish icon in Excel ribbon.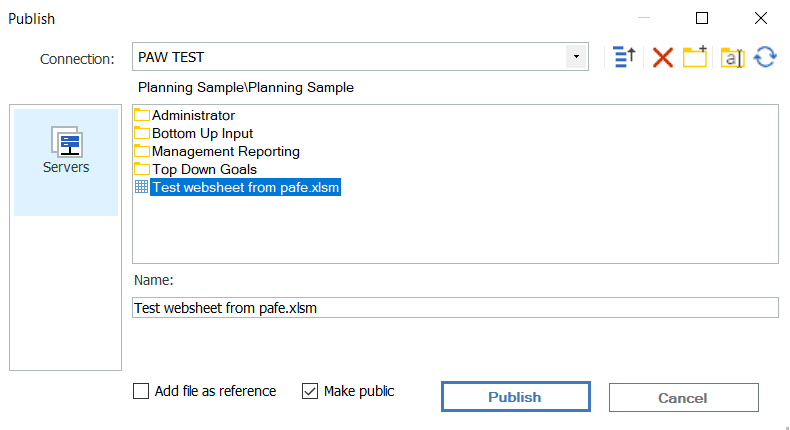 Select the application folder, where you want your websheet and enter a name. Above we have expanded Planning Sample applications.
Mark "make public" if you want other users to see the websheet in TM1WEB. Press publish button.
If you get a blank page in PAW when you insert a Excel sheet to a workbook, that works fine in TM1WEB, you need to ensure that the firewall ports between the TM1 web server and the planning analytics workspace server is open on ports 9510 and 9511. The websheet that show inside PAW; is rendered from TM1WEB.
Access to TM1WEB for both end user and the PAW server is essentiell to make it (PAfE) work.
More information:
https://www.ibm.com/support/pages/blank-white-page-rendered-while-opening-websheets-within-planning-analytics-workspace
https://www.ibm.com/support/pages/planning-analytics-excel-task-pane-empty-and-grayed-out-when-connecting-cam-secured-tm1-server
https://qmetrix.com.sg/ibm-planning-analytics-for-excel-pax-vs-tm1-perspectives/