Product:
Cognos Analytics 11
Microsoft Windows 2019 server
Issue:
Faster way to check license, than use Audit extensions?
https://developer.ibm.com/technologies/analytics/tutorials/ibm-cognos-11-audit-extension/
Suggested solution:
Download and install MetaManager.
https://www.bspsoftware.com/products/metamanager/Download/
Unzip the 64bit file to a folder. You can install MetaManager on your laptop. (You only need port 80 and 9300 open in the firewall to be able to access the cognos servers from your laptop).

Run installation by click on the MetaManagerWixSetup.msi file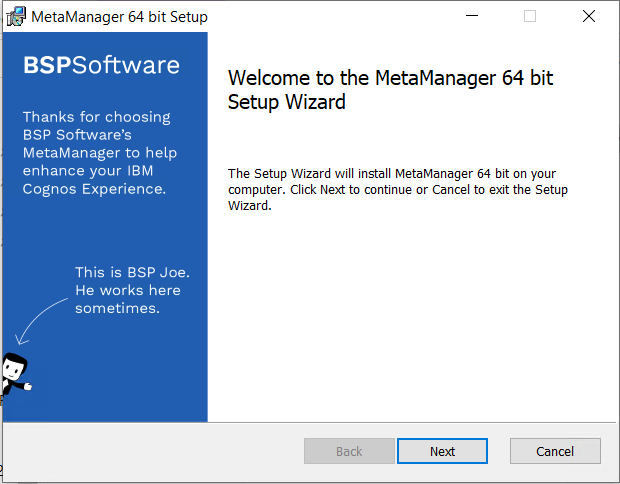 Click Next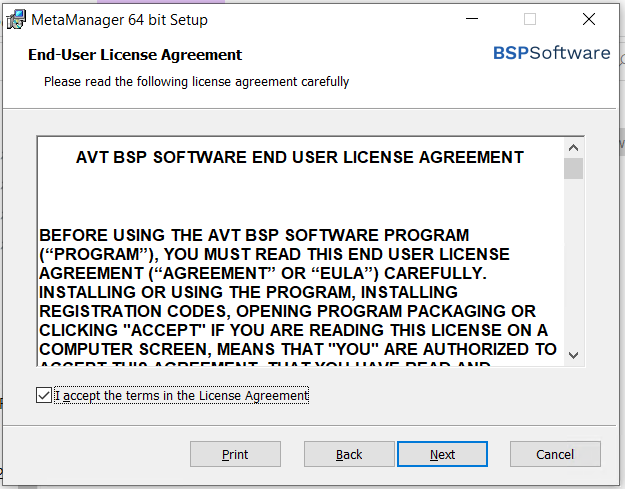 Accept the license and click Next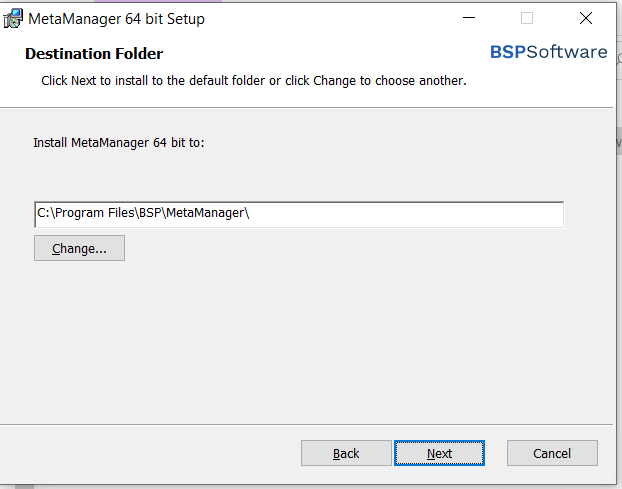 Click Next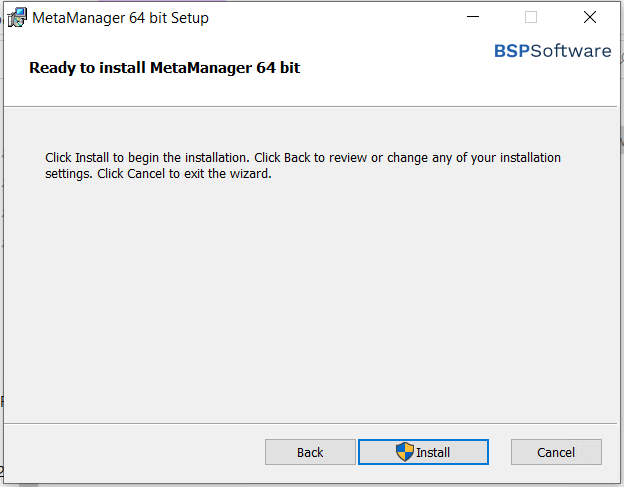 Click Install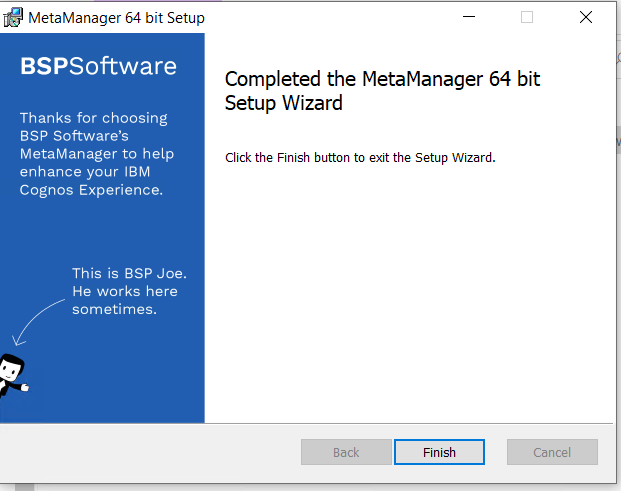 Request a trail licenses from https://www.bspsoftware.com/products/metamanager/freestuff/
You need a trail license for each computer.
Activate the license, from inside the program by click on Enter license key;
Enter the information you got in mail from techdata:
"Thank you for your interest in MetaManager.
This license key will unlock free functionality in MetaManager including the BSP License Auditor module"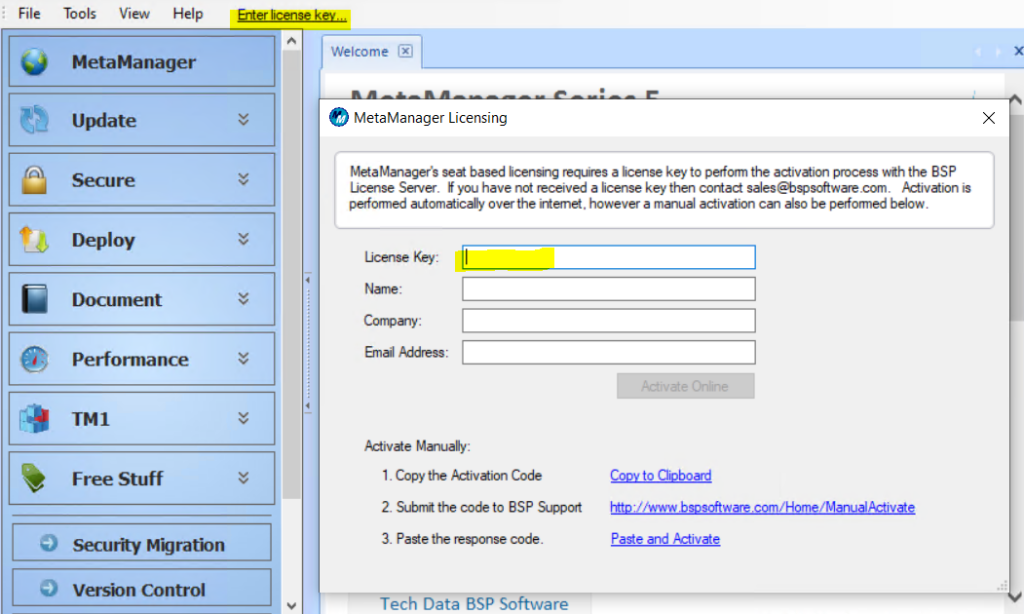 Setup the Cognos Connection, by go to tools – options. Click on IBM Cognos and add: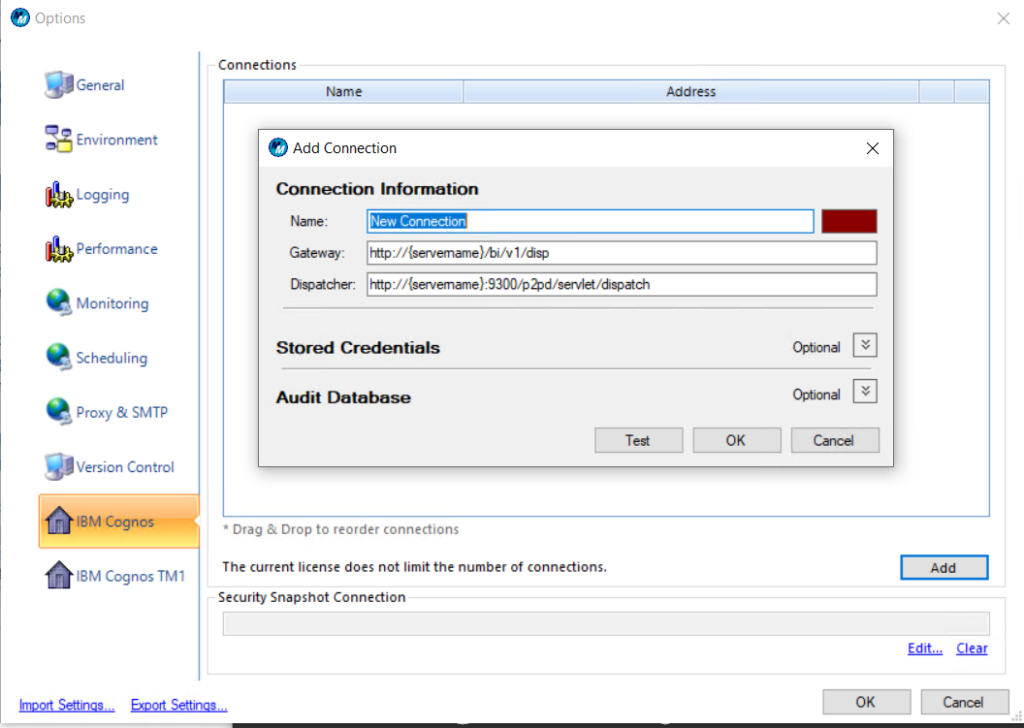 Enter a name, and the FQDN for the cognos server, and expand and enter your Cognos Admin account.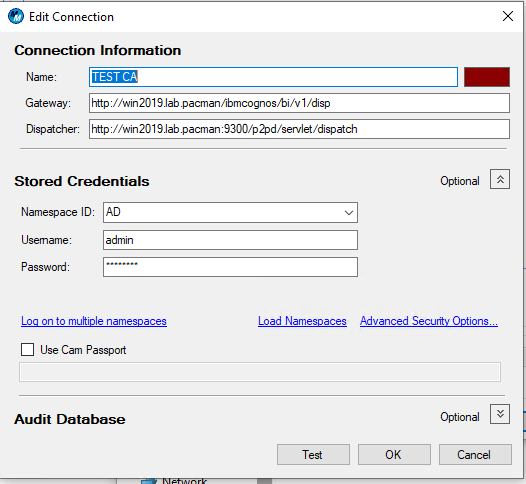 Namespace ID must be same as you have set as namespace in cognos configuration.
Click Test and OK.

You can access all your CA11 environment from one installation of Meta Manager. (you only need port 80 and 9300 to be open in firewall between your computer and the cognos servers).
Run the license scan: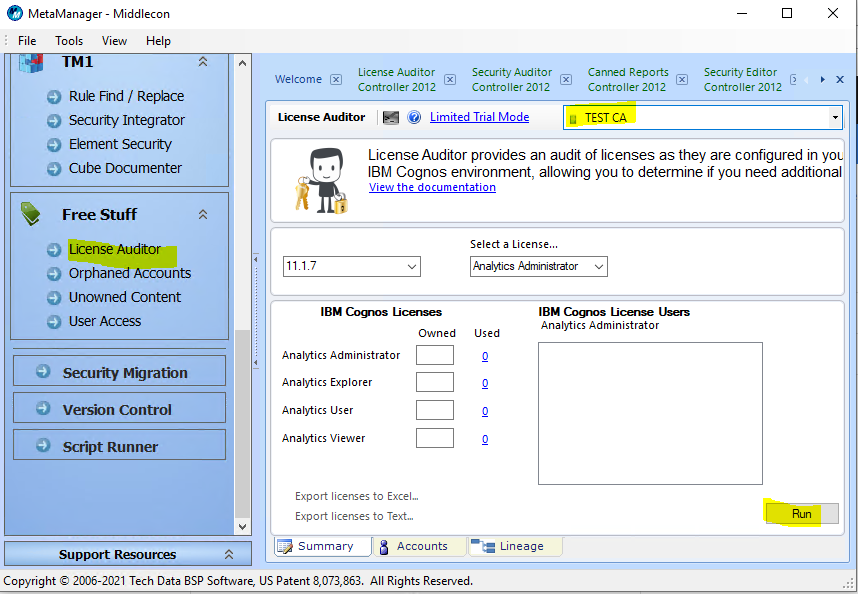 Go to License Auditor – select your site from drop-down – click on Run.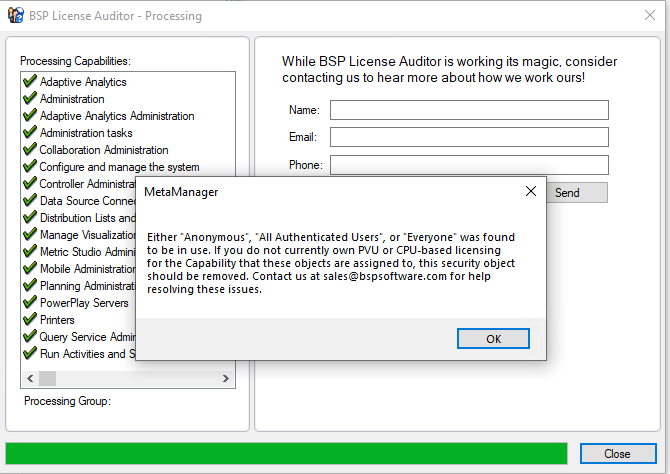 Click OK and Close, to go to the result.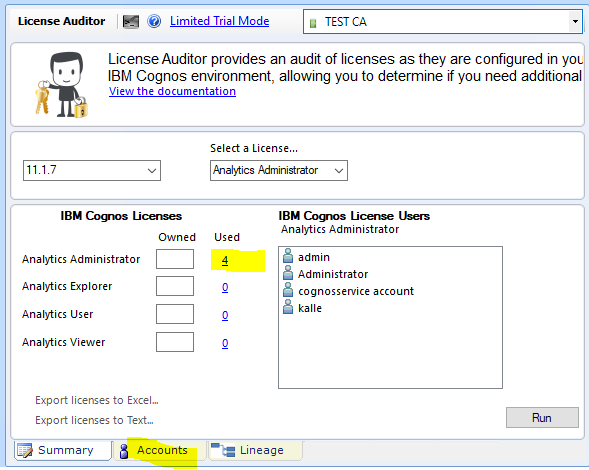 To see the administrators, click on the number or click on Accounts.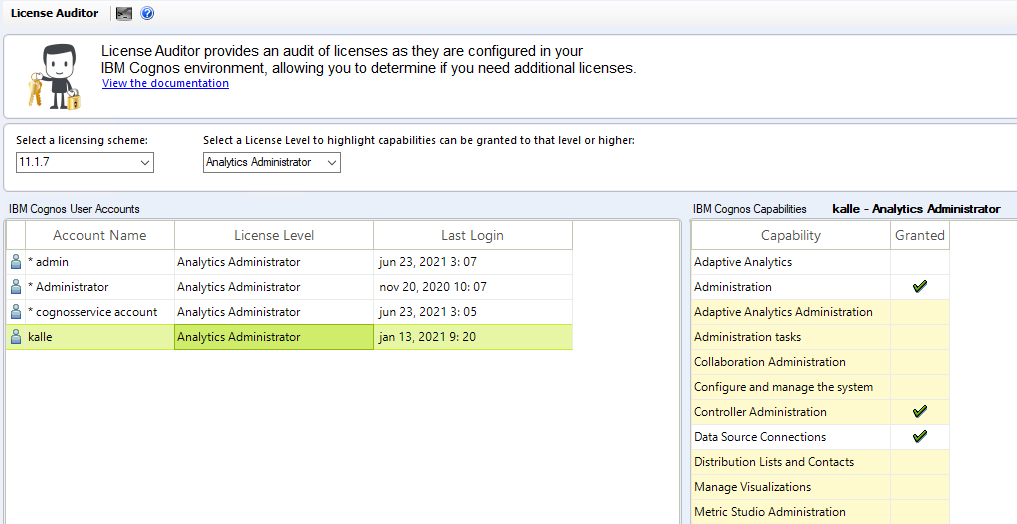 By select "Analytics Administrator" in drop down, you see what yellow capabilities that trigger that this user is Administrator.  The astrix* before a name indicate that the user is in the System Administrator group. Yellow lines tell that this user is consider as a Cognos Administrator, if he should not be it, you must go to Cognos Administration, Security tab, and Capabilities. Then click on "set properties" to find the users in that area.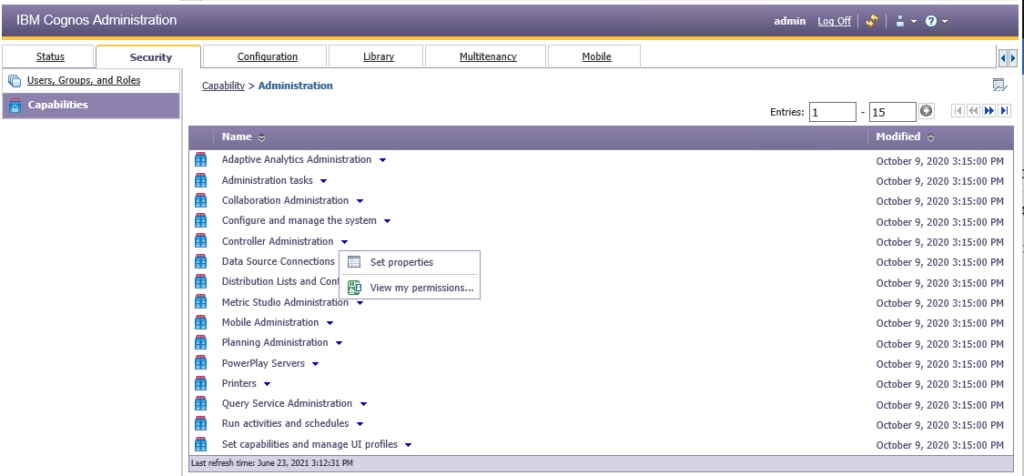 Check you Cognos Security tabs Capabilities, to remove users and groups that should not be in the one capability; that will be triggered as administrator license.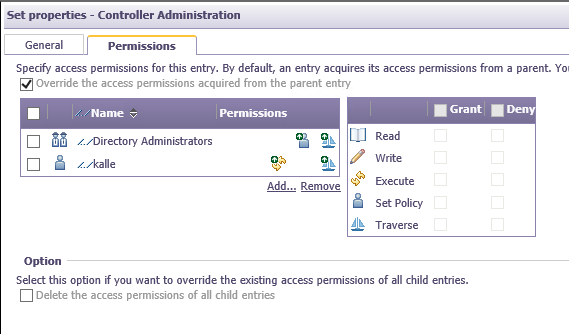 Under permissions, remove the user or group that should not be there. If a user has Grant Execute rights he is consider to have this capability.
This list show the values that trigger different license roles (all values in the link):
https://www.ibm.com/docs/en/cognos-analytics/11.1.0?topic=licenses-default-permissions-based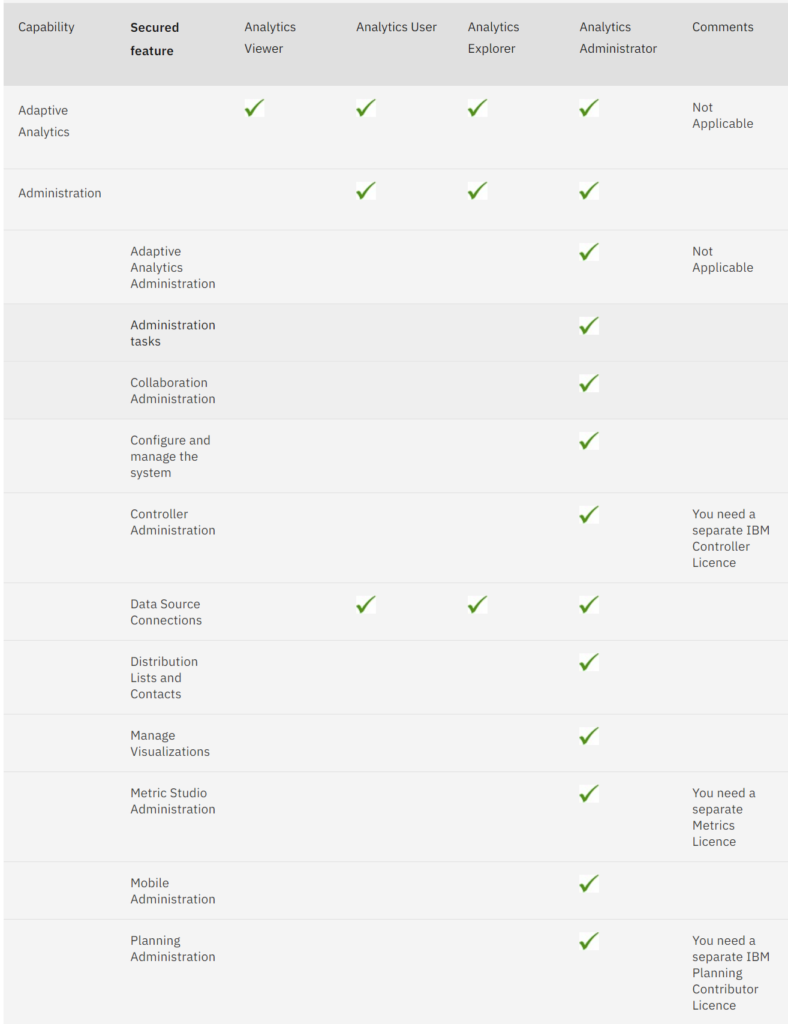 Meta-manager calculate license this way;
https://www.bspsoftware.com/knowledgebase/how-does-license-auditor-work/
More information:
https://www.bspsoftware.com/products/metamanager/pricing/
https://www.pmsquare.asia/pmsquare/
https://www-03.ibm.com/software/sla/sladb.nsf/lilookup/441D74E2925A72EA8525828300720001?OpenDocument
https://www.ibm.com/docs/en/cognos-analytics/11.1.0?topic=licenses-license-roles
https://www.bspsoftware.com/knowledgebase/installing-metamanager/
Contact your IBM partner for help with the license audit: