Product:
Microsoft Windows 2019 server
Issue:
Problem to connect to Remote Desktop from old laptop.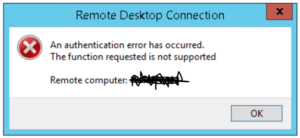 Solution:
Newer Microsoft Windows server has the possible to harden the communication, to not use old security protocols, then it will not allow connections from Windows 2012 or Windows 7 computers.
Try to connect from a Windows 10 computer with the latest service packs.
More information:
https://support.microsoft.com/en-us/topic/microsoft-security-advisory-update-for-disabling-rc4-479fd6f0-c7b5-0671-975b-c45c3f2c0540
https://support.microsoft.com/en-us/topic/rc4-cipher-is-no-longer-supported-in-internet-explorer-11-or-microsoft-edge-f8687bc1-1f88-9abe-5c81-b00c26290f36#bkmk_more