Product
Planning Analytics 2
Microsoft Windows 2012 R2 Server
Problem
How to avoid the time out for users of TM1?
Solution (copied from the web)
IIS server:
HTTP Response Headers at the ibmcognos/samples/images level – set common headers to Expire Web Content to After 5 days.
At the Default Web Site – Limits – set Connection time-out (in seconds): to 900.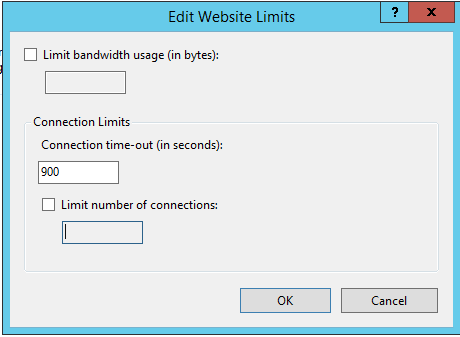 At Application Pools – ICAPool – Advanced Settings, change Idle Time-out (minutes) to 60.
Session timeout in TM1 portal
The TM1 Application Web session-timeout can be adjusted in the following file:
D:\Program Files\ibm\cognos\tm1_64\webapps\pmpsvc\WEB-INF\web.xml
Scroll to the bottom of this file and modify the session-timeout to the minutes you desire:
<session-config>
<|– Default to 5 minute session timeouts –>
<session-timeout>5</session-timeout>
</session-config>
Save the files and restart the IBM TM1 Application Server Service.
Session timeout in Cognos Analytics
1. Launch Cognos Configuration and navigate to "Local configuration -> Security -> Authentication"
2. Modify the "Inactivity timeout in seconds" from the default 3600 to your desired time (for example 7200 = 2 hours").
3. Save the configuration and restart the Cognos service for the changes to take effect
Note:
Most web server timeout settings will come into effect long before the 1 hour time limit, but in the even that no such timeouts exist, this setting acts as a backup.
Furthermore, if the web server hosts other sites that do not have such a timeout, the Cognos portal can be secured by setting this to a shorted time frame so that only Cognos users are affected
The Cognos timeout is set to a value that is less than the timeout set on in-built portal. Make sure you set the value of "Inactivity timeout in seconds" in Cognos configuration to a value which is greater than the Inactivity timeout of your in-house portal.
Error
Unable to successfully log in to TM1Web: Session timed out. Please login again…
Problem(Abstract)
Whenever a user logs into TM1Web the session immediately (falsely) times out.
Cause
The web server has an underscore in the machine name.
More information:
https://www.ironsidegroup.com/2011/06/27/session-timeout-101/
http://www-01.ibm.com/support/docview.wss?uid=swg22002419