Product:
Planning Analytics 2.0.9.15
Microsoft Windows 2022 server
Issue:
In a setup where TM1 authenticates with Cognos Analytics 11.2.4 (CAM login) and have a working SSO login. After adding SSL (HTTPS) to the CA11 gateway, you get a warning message when you login to TM1WEB.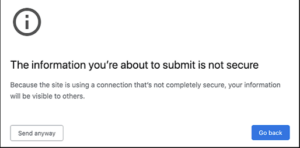 The information you're about to submit is not secure – this is from the web browser that warns that you switch between HTTPS and HTTP websites.
You click Send Anyway and you are logged into tm1web.
Solution:
Ensure that you also use HTTPS on your TM1WEB site.
Set it up from this instructions:
https://www.ibm.com/docs/en/planning-analytics/2.0.0?topic=itw-configure-ssl-planning-analytics-tm1-webspreadsheet-services-existing-keystore
Ensure that all DNS names and alias for you Cognos/Tm1 servers are part of your certificate.
More Information: