Product:
Cognos Controller 10.4.0 IF2
Microsoft Windows 10
Problem:
After update to a new version of Excel,  the program crash when you inside the cognos controller data entry form click preview to open the sheet.
Gone from version Microsoft Office 365 ProPlus 16.0.13029.20308  to version Microsoft 365 Apps for Enterprise 16.0.13127.20408 of Microsoft Excel.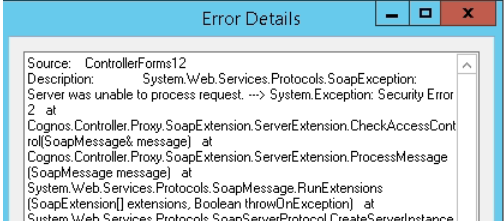 Error:
Faulting application name: EXCEL.EXE, version: 16.0.13127.20408, time stamp: 0x5f56c50b
Faulting module name: KERNELBASE.dll, version: 6.3.9600.19724, time stamp: 0x5ec50c3e
Exception code: 0xe0434352
Fault offset: 0x000156e8
Faulting process id: 0x1a384
Faulting application start time: 0x01d69707dd729044
Faulting application path: C:\Program Files (x86)\Microsoft Office\Root\Office16\EXCEL.EXE
Faulting module path: C:\Windows\SYSTEM32\KERNELBASE.dll
or
Standard Error
Source:              ControllerForms12
Description:     System.Web.Services.Protocols.SoapException: Server was unable to process request. —> System.Exception: Security Error 2
at Cognos.Controller.Proxy.SoapExtension.ServerExtension.CheckAccessControl(SoapMessage& message)
at Cognos.Controller.Proxy.SoapExtension.ServerExtension.ProcessMessage(SoapMessage message)
Solution:
Start Microsoft Excel
Go to Options
Click on Advanced
Scroll down to Formulas
Untick "Enable multi-threaded calculation"


Save and test again.
More information:
https://www.ibm.com/support/pages/office-365-supported-controller
https://www.ibm.com/support/pages/intermittent-excel-has-stopped-working-crasherrors-when-using-report-generator-reports-run-run-reports-or-forms-triggered-multi-threading
https://www.ibm.com/support/pages/intermittently-reports-run-hangs-near-completion-eg-84-report