Product:
Cognos Controller 10.3.1
Microsoft Windows 2016
Problem:
User is stuck inside Excel when using the buttons for the controller add-in.
Solution:
Close excel and cognos controller clients.
Login to Cognos Controller as the user with the problem.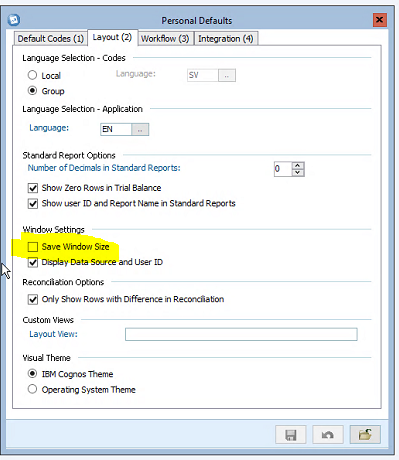 Click "Maintain / User / Personal Defaults > tab Layout (2)"
Untick the box 'Save Window Size'
Click Save
Logoff from Controller, and re-launch the Controller client.
Go to Company – data entry – and try again.
More Information:
https://www.ibm.com/support/pages/controller-hangs-freezes-crashes-when-click-intercompany-details-button-inside-data-entry-company-journals-caused-save-window-size-setting
https://www.ibm.com/support/pages/troubleshooting-errors-user-xyz-already-logged-database-and-no-licence-available-moment
https://www.ibm.com/support/pages/user-xyz-already-logged-database-triggered-closing-excel-wrong-time-earlier-solved-using-exceleagerload