Product:
Cognos Analytics 11.1.6
Product_version=11.1 R6
CAMAAA_ACM_version=11.1.6-25
Microsoft Windows 2016 Server
Problem: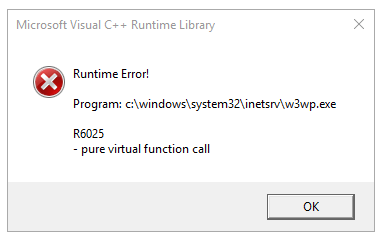 When browse to IBMCOGNOS and login with SSO, you get a error;
Microsoft Visual C++
Runtime Library: Runtime Error! Program
c:\windows\system32\intersrv\w3wp.exe R6025 – pure virtual
function call
Cognos Installed from ca_srv_win64_11.1.6.zip file.


If you browse to http://servername:9300/bi/v1/disp, then the login works fine.
Solution:
Download a later version of CA11 from Fix Central
https://www.ibm.com/support/pages/node/6207165
interim fix: 11.1.6-BA-CA-Win64-IF001
Cognos Analytics 11.1.6 Interim Fix 1
The following files implement this fix.
casrv-11.1.6-2005071525-winx64h.zip (5.01 GB)
To upgrade;
Stop the Cognos service and put it to manual.
Export the cognos configuration as a backup.
Reboot your windows server, to ensure all cognos java process have stopped.
Start the installation again with ca_instl_win_2.0.2003191.exe and select the file casrv-11.1.6-2005071525-winx64h.zip.
Install on top of previous installation.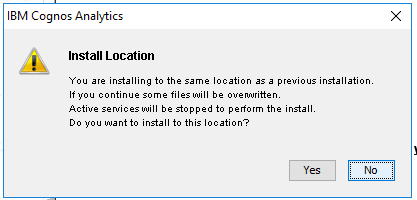 Open Cognos Configuration, save the configuration and start the services.
Test to surf to http://servername.domain.com/ibmcognos
More Information:
https://www.ibm.com/support/knowledgecenter/SSEP7J
https://www.ibm.com/support/pages/how-apply-interim-fix-cognos-111x-using-silent-install-method