Product:
Planning Analytics 2.0.8
Microsoft Windows 2016 server
Problem:
When you click on a TM1 application Web link in Cognos Connection (from Cognos Analytics 11) you get a error. You also noted that the SSO did not work to your Cognos Analytics 11 webpage.
You can also get into pmpsvc page, but with wrong colors.

Error:
error, see logs
Solution:
To make a link from CA work to Planning Analytics Web (PMPSVC) you must login correct to Cognos Analytics (CA11) first.
Ensure you surf to http://servername/ibmcognos and not to http://servername:9300/bi/v1/disp
Please also try to, in Internet Explorer change the Compatibility view settings to be blank.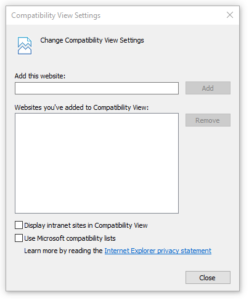 "Display intranet sites in Compatibility View" should be checked off.
More information:
https://www.ibm.com/support/pages/how-setup-tm1-web-and-tm1-applications-cam-authentication
https://docs.microsoft.com/en-us/internet-explorer/ie11-deploy-guide/missing-the-compatibility-view-button