Product:
Cognos Controller 10.4.2 IF7
CONTRL_UPDATE_version=CCR-AW64-ML-RTM-10.4.2000.1063-0
CONTRL_UPDATE_name=IBM Cognos Controller Update
CCRPORTAL_version=CONTRL-AW64-ML-RTM-10.4.2000.185-0
CCRPORTAL_name=IBM Cognos Controller Portal
Microsoft Windows 2019 server
Problem:
One a fresh new Windows server, after installation of Cognos Controller program for the first time, there is missing COM+ applications for Cognos Controller in Component Services.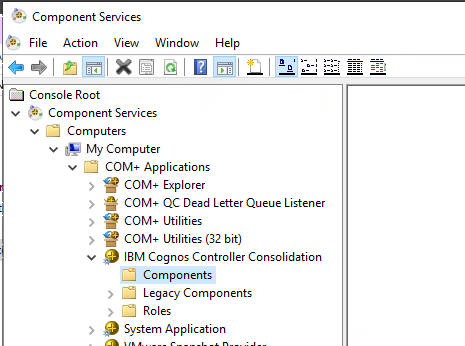 Solution:
Uninstall Cognos Controller from the server, leave a few files left, as below picture show.



Then run the installation again. Select everything.
This can help in many cases.
Other things to check;
Run below power shell command to check that NET framework 4.7.2 is installed:
(Get-ItemProperty "HKLM:\SOFTWARE\Microsoft\NET Framework Setup\NDP\v4\Full").Release -ge 461808
More information:
https://www.ibm.com/support/pages/vfp-and-vfpcom-error-messages-when-installing-controller-server-causing-frangovfpdll-not-be-registered-component-services-com-caused-apar-ph24802
https://docs.microsoft.com/en-us/dotnet/framework/migration-guide/how-to-determine-which-versions-are-installed