Product:
Cognos Analytics 11.1.3
Planning Analytics Tm1 Perspective
Problem:
After adding more namespaces in Cognos Analytics to be able to select from two domains (active directory) the user of TM1 Perspective get a blank drop down page in the CA11 login.
Only a few users are affected, user with different version of Microsoft Excel got it working.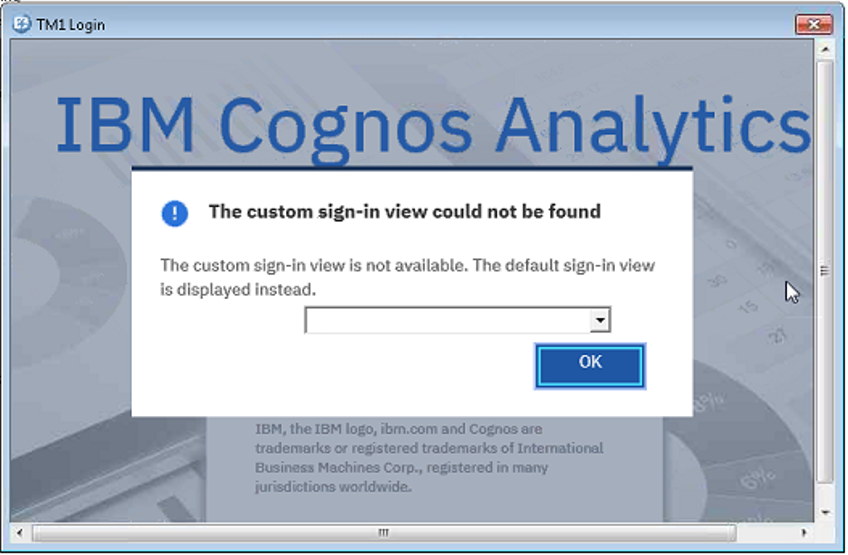 Suggested Solution:
On the client computer or on the citrix server where TM1 Perspective Excel plug in is installed and used, take a backup of the users windows registry.
Enter REGEDIT in the START search field.
From inside REGEDIT expand HKEY_LOCAL_MACHINE\SOFTWARE\Microsoft\Internet Explorer\MAIN\FeatureControl and right click and select export;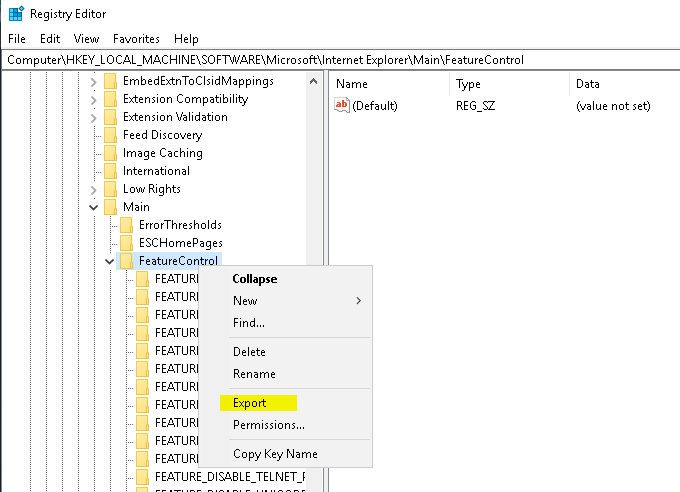 Save the file, and repeat the backup for the other branches listed below.
Then apply this values in REGEDIT to solve the issue.
[HKEY_LOCAL_MACHINE\SOFTWARE\Microsoft\Internet Explorer\MAIN\FeatureControl\FEATURE_BROWSER_EMULATION]
"Excel.exe"=dword:00002af8
[HKEY_LOCAL_MACHINE\SOFTWARE\Wow6432Node\Microsoft\InternetExplorer\MAIN\FeatureControl\FEATURE_BROWSER_EMULATION]
"Excel.exe"=dword:00002af8
[HKEY_LOCAL_MACHINE\SOFTWARE\Microsoft\Internet Explorer\MAIN\FeatureControl\FEATURE_USE_WINDOWEDSELECTCONTROL]
"Excel.exe"=dword:00000000
[HKEY_LOCAL_MACHINE\SOFTWARE\Wow6432Node\Microsoft\InternetExplorer\MAIN\FeatureControl\FEATURE_USE_WINDOWEDSELECTCONTROL]
"Excel.exe"=dword:00000000
More Information:
https://www.ibm.com/support/pages/namespace-drop-down-appears-blank-cognos-analyticscognos-bi-login-page-while-attempting-login-planning-analytics-cam-authenticated-server-perspectives
https://www.ibm.com/support/pages/custom-sign-view-could-not-be-found