Product:
Cognos Analytics 11.1.5
Microsoft Windows 2012
Problem:
In a Cognos solution where you have a multi-server setup of Cognos Analytics, more than one Cognos BI server, you get strange errors in teams or story's.
Solution:
In newer versions of CA11, can you test the Configuration Group to ensure it works.
Right click on Configuration Group inside Cognos Configuration and select Verify.
If the windows server with CA11 installed, have more than one network card, it is important to enter the network cards IP for that card that is used for communications between the CA11 servers.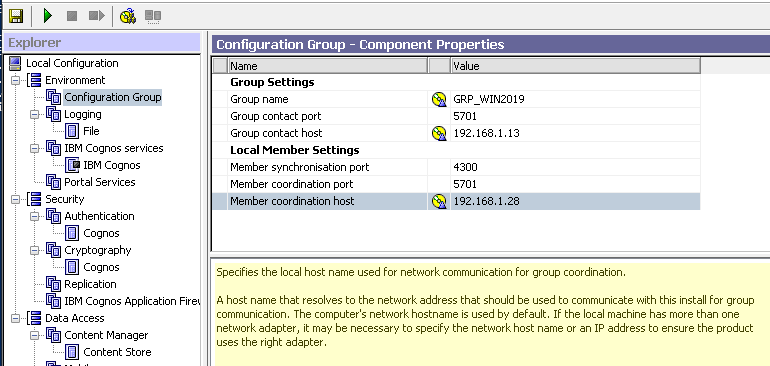 Group contact host should be the IP to the Cognos Content Manager server that act as Configuration Group master.
Member coordination host should be the local windows servers IP number, that will be used for communications between the servers. This is often the same IP number that is used by client if they access the CA11 direct on port 9300.
Enter Ping ca11servername.domain.com from you client computer to find the possible address to use.