Product:
Cognos Analytics 11.1.5 framework manager
Product_version=11.1 R5
Microsoft Windows 2016 server
Problem:
When inside Framework Manager you select language, to create a new FM project, you get a error.
This after a install of FM to a new server, and try to connect to a BI server that was upgraded from CA 11.0.12 to CA 11.1.5 by an in-place upgrade.
Error message:
BMT-MD-0003 CCL-BIT-0005 A socket reported a communication error.
CAM_Connect=0xfffffff4 -12CAM-CRP-0026 The underlying socket: 'xx.xx.xx.xx:9300' returned an error.10056Could not connect the socket, errno: 0x2748(10056)
error in file cognosserver.log
[ ERROR ] CAM-CRP-1193 An error occurred while attempting to contact the active Content Manager to update the local CA information. Check your configuration to ensure that the configured URIs are valid and that there are services running at those locations. Reason: javax.net.ssl.SSLHandshakeException: Remote host closed connection during handshake
or in C:\Program Files\ibm\cognos\analytics\logs\p2pd_messages.log
[5/7/20 12:44:52:435 CEST] 0000029d com.ibm.ws.channel.ssl.internal.SSLHandshakeErrorTracker E CWWKO0801E: Unable to initialize SSL connection. Unauthorized access was denied or security settings have expired. Exception is javax.net.ssl.SSLHandshakeException: no cipher suites in common
Solution:
Go into the Cognos Configuration on the CA11 server and in the Framework Manager Configuration on the client computer.
Compare the listed of supported ciphersuites.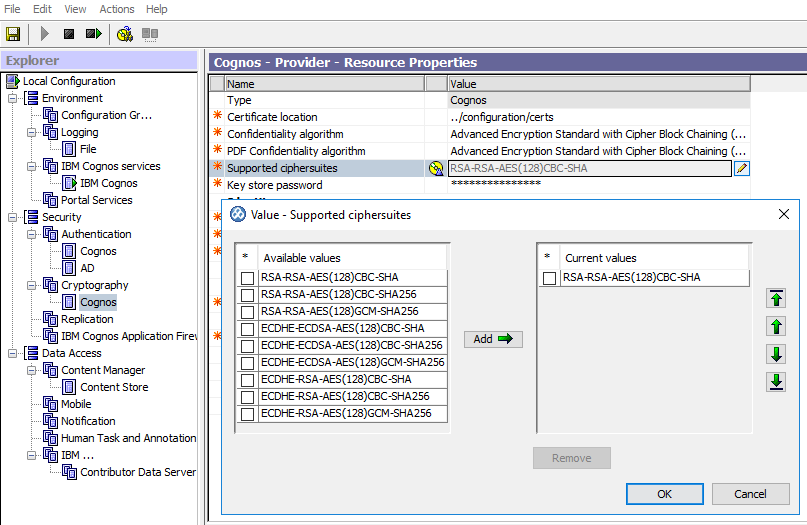 If the FM configuration is missing the setup on the CA11 server, add the missing chiper sets.
Save and try again.
In most cases you must have the same list on both FM configuration and the CA11 server cognos configuration.
Change the FM configuration to be exact as the CA11 server.
Save and try again.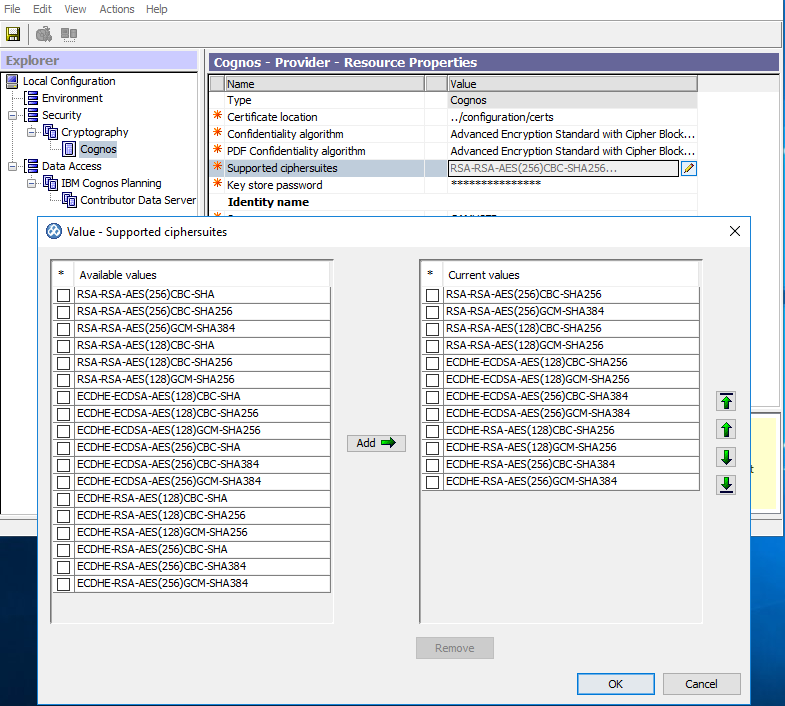 Above the default setting for FM 11.1.5 version.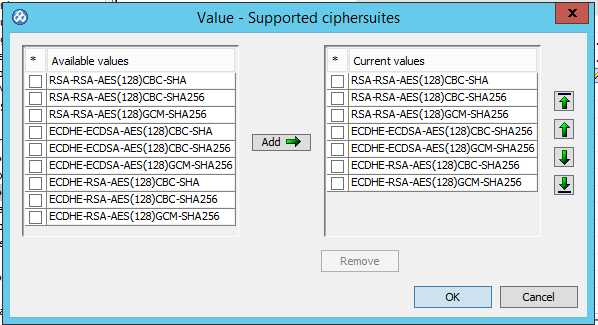 Above the default setting for CA 11.0.13 FP1.
More information:
https://www.ibm.com/support/pages/support-256-bit-cipher-suites-cognos-configuration